Hello everyone!
We are happy to announce a renewal of the My account page for amiami.com.
Note:
An open beta release will take place during the period May 20th - June 3rd, and the final release is scheduled at the end of the beta release period. Please let us know at e_support@amiami.com if you wish to share any feedback, or if you are experiencing any problems.
*If in case there are any problems during the beta test, preventing normal use of the website, the old My Account page will be restored, and the renewal will be suspended until further notice.
Note:
Updates from our shipping team regarding the current shipping situation, due to COVID-19, can be found here.
The renewal is focused on a new design, more consistent with the rest of our website, as well as improved responsive design. The functionality will stay the same as before, with some minor tweaks and improvements.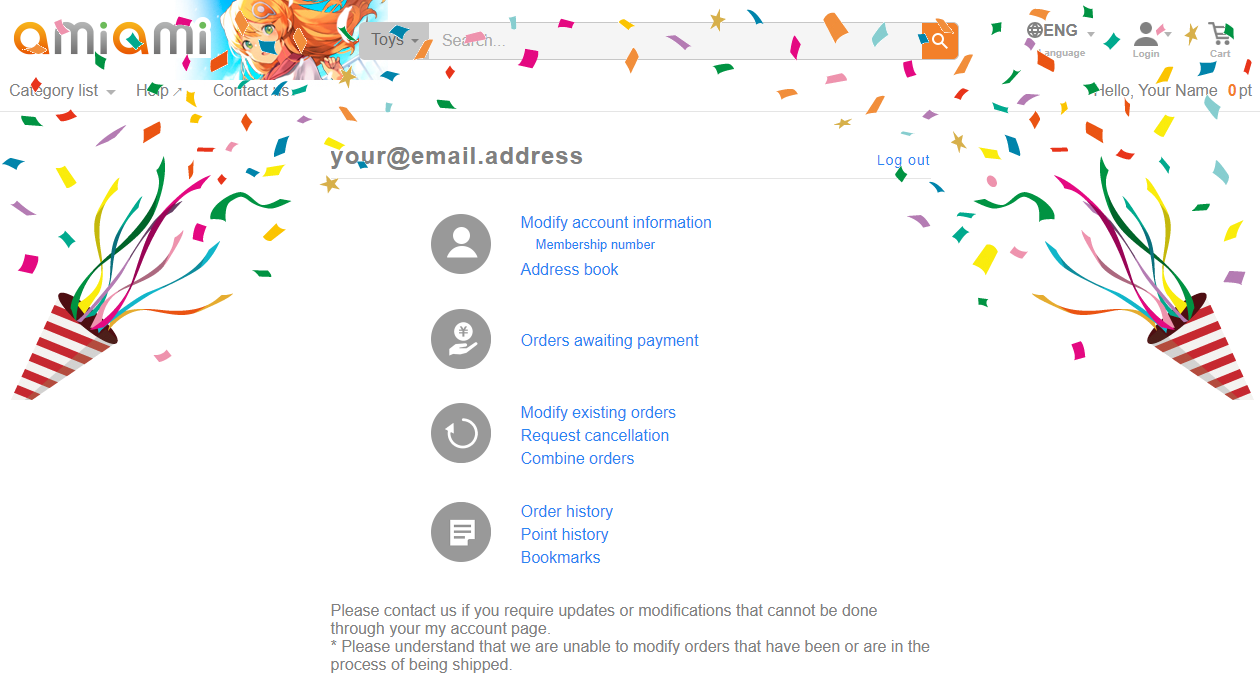 *For more details on what you can do on each page, please check the pages linked to below.
Account details

You can check and update your account information, as well as change your account settings.
You can check the membership number for your account here.
You can save up to 2 additional shipping addresses in your address book, for easy access when placing new orders or updating current orders on your account.
Payments

Your orders that are currently awaiting payment will show up here. Please make sure to check the payment deadlines in the payment request emails and submit your payments before the payment deadline.
Modify orders

You can update the shipping address, shipping method and payment method for orders that have not yet been paid.
If you need to cancel an order, or some items from an order, then please submit a cancellation request. Please note however that some items may not be eligible for cancellation.
If you have multiple orders scheduled for the same month, you can combine the orders here.
History

View all your orders here. *Canceled orders will not be visible.
You can confirm the AmiAmi points on your account here. Please note that points for new orders are added approximately 17 days after an order has been shipped.
View your bookmarked items here.
Other
Details regarding placing orders.
Feedback
If you have any feedback regarding the updated design, or if you are experience any problems, please feel free to send us a request, open a chat request, or send an email to e_support@amiami.com. We will reply to questions as soon as possible.
Kind Regards,
AmiAmi support team