Note: Beta release May 20th - June 3rd
To place an order, you first need to add the items you wish to purchase to your cart, and if you have not yet created an account, then you need to first create an account before you are able to check out any orders. Once you are done putting the items you wish to purchase in your cart, open your cart and click the "Proceed to Checkout" button.
The checkout process consists of 3 steps and the final confirmation.
Rearrangement option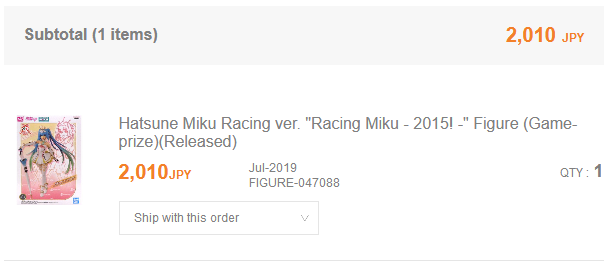 First you select how you wish to arrange the items, by default the option "Ship with this order" will be selected, this means that all items that are from the same month will be placed in a new order. But you can re-arrange the items by selecting other options.
Other available options are:
"Combine with monthly order": If you have an order set as your monthly order for the particular month of the item, then the item will be combined to that order.
"Ship separately": The item will be placed in a separate new order.
"xxxxxxxxx": The item will be combined with the selected order.
*Please keep in mind that very large orders that will not fit in any of our shipping boxes, will be split automatically when invoiced.
Payment & Shipping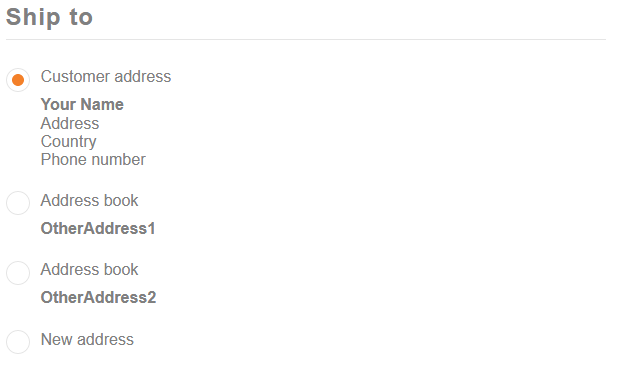 By default, your customer address will be selected as your shipping address, but you can change the address to an address saved in your address book, or select "New address" if you wish to ship to a different address.
*Please make sure that your addresses are correct and include all the necessary information, and you can update the address through Modify existing orders if any changes are needed.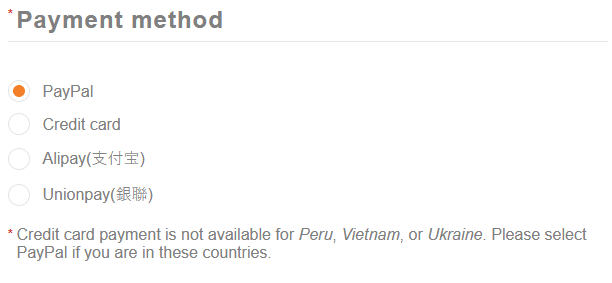 In countries where PayPal is available, we recommend the use of PayPal, however PayPal can not be used when purchasing adult rated goods, in which case we recommend direct credit card payments instead. Alipay and Unionpay is only available for Chinese customer, or international customers with a Chinese Alipay or Unionpay account.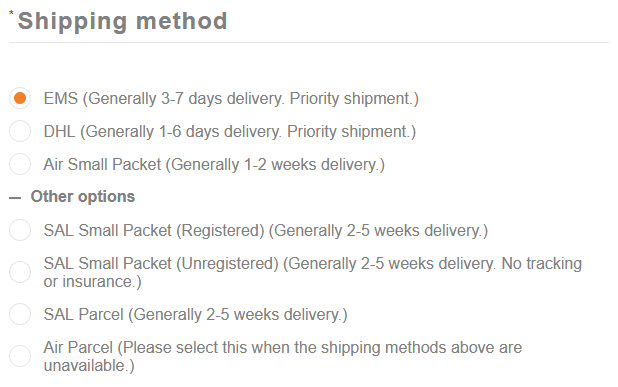 When selecting shipping methods for your orders, we recommend using EMS and DHL for safe and fast delivery. Other than that, all shipping methods, except for SAL Small Packet Unregistered, will have some tracking available and come with some sort of shipping insurance, please refer to our shipping methods page for more details.
*COVID-19 note: Currently some countries are experience large delays with EMS shipping, so DHL shipping is recommended for fastest possible shipping.
*COVID-19 note: SAL shipping is currently unavailable for all countries.
Review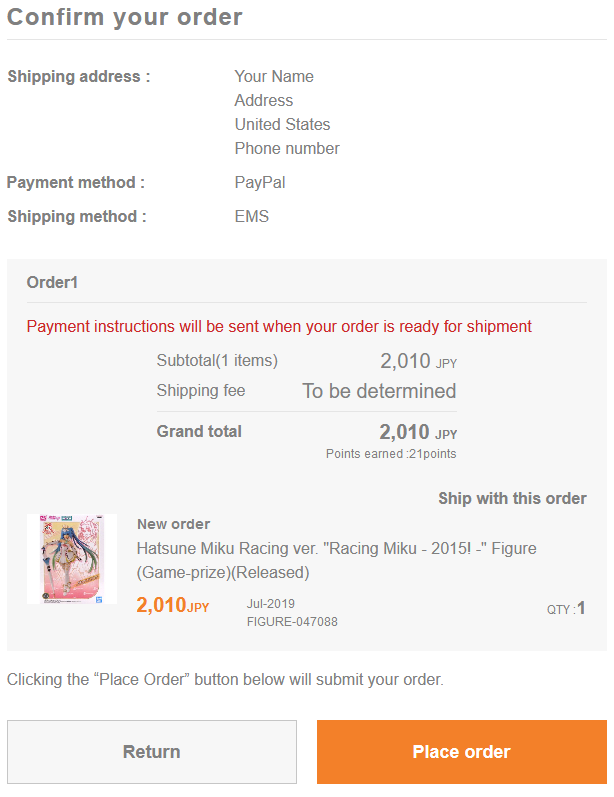 Please confirm that all the details are correct before clicking on "Place order", and if you need to make any changes after placing the order, please modify your order through Modify existing orders. For orders containing only in-stock items, you will receive a payment request within 1 business day, where you again can confirm the order details, and proceed with submitting the payment for your order.
FAQ
What is the shipping cost for this item? Can I change my shipping method or address?
I wrote my shipping address incorrectly! What can I do?
The item I ordered is marked as released on your website but I haven't received an invoice.
I ordered the wrong item! What can I do?
There is now a version of the item I ordered with an AmiAmi exclusive bonus. Can I switch to that version?